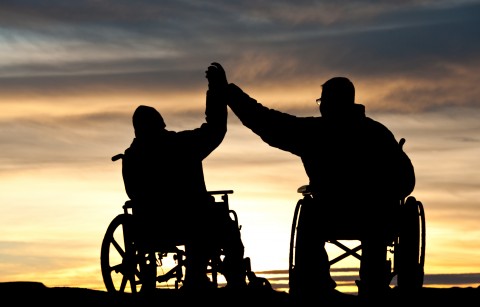 The essence of Spinal Cord Injury Canada is Peer Support.
Peer Support connects people living with spinal cord injuries to fully-trained volunteers and staff who can share their lived, personal experience, and knowledge. We can connect family members, too! We complement professional services provided in acute hospitals, rehabilitation centres and community-based health and social service agencies.

Trained Peer Support Volunteers and staff are people with spinal cord injuries and family members of people with injuries, too. Our volunteers and staff have "been there; done that" and are willing to help those who are newly injured, and their families, as they adjust to life with an SCI.

For a person with a new SCI, thinking about the challenges of the future can be daunting. But, nobody should have to contemplate these life changes in isolation. By listening, sharing their own experiences and providing practical information, volunteers and staff provide a range of support.
Peer Support volunteers and staff members are confidants... privy to deeply personal and emotional feelings. They are empathetic and good listeners. They offer encouragement, and ultimately, they help ensure that a person keeps their integrity and dignity as they adjust to their new life as a person with a spinal cord injury.
Find your provincial member of SCI Canada to arrange Peer Support.