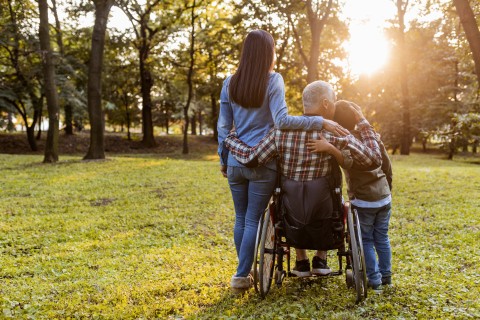 Chances are that, if you are reading this page, you are a family member or a good friend – and your loved one has just been diagnosed with a spinal cord injury.
You're scared and overwhelmed. Shocked. We get it.
Over the next few days and weeks, there will be a lot going on. There will be surgeries, consultations, possible complications like pneumonia, and your loved one may end up on a ventilator or have a tracheostomy - so communication can be difficult.
They may want to give up, unable to comprehend what kind of a future could exist without the use of parts of their body.
And you may be wondering about your own relationship with them. How will it change? Will you survive as a couple? Friends? Lovers? As parents or a sibling, will there be added expectations in the future?
You are not alone. Many people have come before you. That is why Spinal Cord Injury Canada has existed for over 75 years. We are here to help.
A spinal cord injury is very individual. The impact of the injury affects different parts of the body. You may want to see our About SCI page to understand how the body changes depending on where the injury is located.
When your loved one is medically stable, we suggest you introduce the idea of Peer Support. Our provincial federation members can connect them with someone who has "been there, done that" – someone who truly understands what they are going through. Please feel free to reach out to the provinces if you want someone to talk to – we offer family Peer Support, as well.
The truth is, the next few years are going to be tough. Adjusting to a spinal cord injury takes time. From acute care, your loved one should go to a rehab hospital. After that, once back in the community, they will most likely still need support with housing, employment, advocacy and emotional support. Our best advice is to stay connected. Spinal Cord Injury Canada provides the right support at the right time – from the time of injury and through the rest of a person's life.
Remember, with adversity comes strength. Once you get through this, you can get through anything life throws at you. Take it one day at a time. Look after yourself. And trust us when we say, life can be fantastic even with a spinal cord injury.
Call your provincial office today. You'll be glad you did.