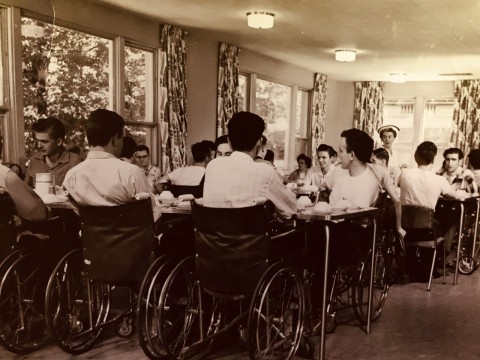 John Counsell and L. M. Wood had been working with government officials to create a rehabilitation centre for people with spinal cord injuries. There was enough space at 153 Lyndhurst Avenue for their plans. They were also pleased it was an actual house as they wanted this place to be inviting and comfortable. The staff were not to wear uniforms. The rooms were warmly decorated. Counsell and Wood wanted the people who came to the centre to feel like they were in a home.
The three-story house sat on a three-acre property in the Bathurst and St. Clair area of Toronto. Ralph Connable built it in 1914 for $162,000. Mr. Connable was the head of the Canadian W.F. Woolworth department stores. During the 20s, Ernest Hemingway came to stay with the Connable family to tutor their son and write for the Toronto Daily Star. Hemingway even rode his horse out in the back ravine.
Later, the home was sold for $100,000 to Nathan Nathanson, the president of Famous Players Theatres. The house had a tennis court, a movie theatre, a bowling alley and a ballroom. After Mr. Nathanson died, the home was bought on New Year's Day of 1945. It was to become Lyndhurst Lodge for the next 30 years.
Lyndhurst Lodge was to be a training centre, so people could learn the skills they needed to live, once again, in their own communities. The first ten people moved in January of 1945. The elevator was still not even installed! It didn't matter, though, as staff pushed ahead with rehabilitation, and the orderlies were willing to carry people upstairs if need be. By March, Dr. A.T. Jousse had been hired as the Medical Director.
Dr. Jousse expected the residents to get up out of bed, eat meals in the dining room, and go to the gym for exercise and physiotherapy treatments. The gym had treadmills, wall bars, punching bags, and a rope attached to the ceiling for climbing. They used new procedures and practices to help people develop their own daily living routines. By May 1945, they were up to 21 residents and still no elevator to the second floor. The residents were separated by complete and incomplete injuries - and those who could walk using calipers were expected to do so.
Lyndhurst Lodge maintained its homey charm. The residents were treated to movie nights. Sometimes on weekends, there were social parties. And fairly regularly, residents were transported to Maple Leaf Gardens to watch Leaf games. There was even a little dog with a spinal cord injury named Mike to keep the residents company. Those at the Lodge were also expected to take trips into the community. They were to ease back into their lives, returning to the Lodge until they were ready for full-time community living.
By the fall of 1945, a new wing on the home was built, so there was room for 16 more beds. And in October 1946, the first 16-year-old civilian came to Lyndhurst Lodge.
On April 1, 1950, Lyndhurst Lodge, with all its medical equipment and assets, was transferred for one dollar from the Department of Veterans Affairs to the Canadian Paraplegic Association. It was agreed between both parties that if there were ever another national emergency, the Department of Veterans Affairs would re-claim Lyndhurst Lodge. By this time, more civilians were staying at the Lodge than veterans.
By 1970, there was a waiting list to move into Lyndhurst Lodge. The Canadian Paraplegic Association Board of Directors agreed that it was time to build a larger facility. However, it took until 1974 to break ground on the new Sutherland Drive location for Lyndhurst Hospital.
In 1994, the Ontario government insisted that the Canadian Paraplegic Association no longer run Lyndhurst Hospital. Negotiations started between government officials and CPA Ontario Executive Director, Bill Adair. Officials first offered 1 dollar – the original transfer payment for Lyndhurst Lodge. Flatly refused, the next offer was $50,000. Bill Adair eventually negotiated $5.4 million for the transfer of the hospital and its property.
Read Lyndhurst Lodge As a Patient Sees It to further understanding what Lyndhurst Lodge was like as a rehabilitation facility.