What Does it Means to Be an Advocate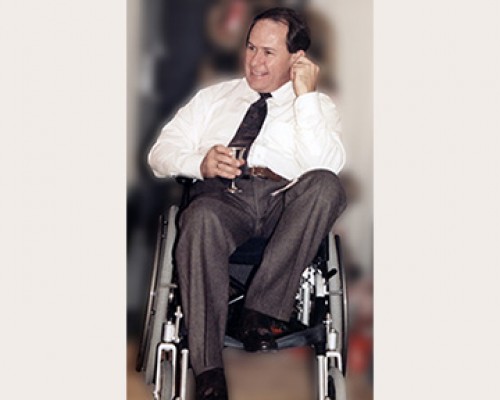 Oct 26, 2020 | by Mary Ann McColl
Advocacy for a better life and more opportunity for people with spinal cord injuries has been a priority for Spinal Cord Injury Canada from the very beginning.
This is a story about Kirby Rowe, founding Executive Director of the Ontario Division of the Canadian Paraplegic Association (from 1980 – 1989), and lifelong advocate for people with spinal cord injuries. Kirby was injured in August 1976 in a light airplane crash, and lived for 41 years with paraplegia.
Kirby's philosophy of advocacy was derived from a quote by the notorious gangster, Al Capone. What did Al Capone know about advocacy? You be the judge! Kirby often quoted Al Capone as saying:
"I find I get a lot further with a gun and a kind word, than just a kind word alone!"
Kirby interpreted this statement to mean that it is not enough for the government to express goodwill and kind sentiments toward people with disabilities. There was a need for accountable policy that could be enforced and guaranteed.
Under his leadership, the Ontario division of CPA grew to include eight regional offices and Kirby was awarded the Ontario Bicentennial Award to honour his contributions "to a better society and to the lives of others in the province".
In 1989, Kirby went on to join the Ontario Ministry of Health. After a career of lobbying government on behalf of people with disabilities, he shifted to serving from within government for nine years, as Rehabilitation Coordinator for Ontario, before retiring at age 50 due to further health complications.
Kirby is remembered for a fighting spirit, a positive attitude, a lively sense of humour, and a commitment to people with spinal cord injuries. He was a man of immense character and social responsibility, who was an inspiration to many.
William Kirby Rowe
March 24th, 1948 – August 25th, 2017