Massage Therapy (Mental Health Series Part Five)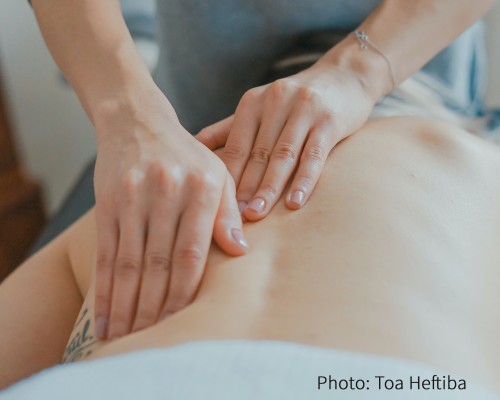 Feb 28, 2023 | by Kayley Lawrenz
Welcome back to this series on mental health. I am so glad you have joined me. As I mentioned in the first part of this series, I will now talk about the benefits of massage therapy.

Mental and physical health are interconnected like a computer, and they positively and negatively impact each other. SCI impacts our bodies and often our mental health in many ways.
SCI often results in:
Increased risk of mental health diagnoses
Loss of muscle tone and control
Spasticity
Decreased muscle health

Additionally, our bodies often experience a lot of muscle pain and headaches because the muscles we still have control over are more strained. Moving and adjusting our bodies and using a wheelchair, crutches, or walker all stress our muscles more than ever. In addition, our other muscles don't or can't always support us in our daily activities.

Chronic pain
Decreased blood flow and circulation
Increased rate of infections, specifically bladder infections (UTI)
Swelling
Decreased range of motion in joints and muscles
Decreased self-efficacy

Albert Bandura, a highly respected psychologist, defines self-efficacy as one's belief in their ability to achieve what they want in life, take care of themselves, and advocate for their needs. Self-efficacy is your belief about whether you may succeed in different situations. These beliefs often determine how you think, behave, and feel.
However, research finds that massage helps with these SCI-related effects on our physical and mental health. For instance, researchers have found that massage therapy significantly decreases stress levels, anxiety, and depression. Research findings also suggest that massages can reduce heart rate and blood pressure, decreases cortisol levels in your body, reduce headaches, muscle tension, irritability, fatigue, muscle and joint pain, and chronic pain. Messages can also increase serotonin levels in your body, resulting in improvements in your mood, energy levels, and sleep quality.

Massage is capable of helping with overall muscle health, even on muscles that you no longer have control over. This form of therapy helps with range of motion and slows the rate of muscle degeneration.

All of these benefits will likely allow you to become a happier, more productive and confident person. You can be someone who no longer faces as many physical and mental challenges in school, your career, or physical fitness. You can have a healthy social life due to lower pain levels and higher energy. For myself, massage therapy allows me to:
Relieve anxiety and stress in my mind and body
Wheel myself better
Be more productive at my studies and work without needing to stop due to extreme neck pain
Have a better range of motion
Handle the cold better
Work out and engage in physical therapy more often
Enjoy more time with loved ones
Additionally, each of these benefits significantly improves my self-efficacy. If I am honest, my upbringing, perfectionism, anxiety, and SCI have negatively impacted my self-efficacy. I constantly need to improve my confidence in what I may achieve. Therefore, I am so thankful to have massage therapy as an option to help me when I'm dealing with low self-efficacy. I recommend that you try a few massage sessions to see how incredible it can be for your well-being.
Conclusion
In this blog, I have given you some important information regarding massage therapy. My hope is that these tips and techniques assist you in enhancing your state of mind after experiencing an SCI.
I invite you to read my next blog!